Animal Wellness Action endorses
U.S. Representative Nancy Mace
Animal Protection Champion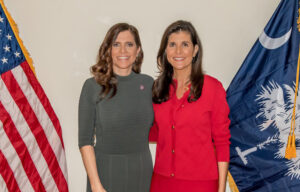 Join Nikkli Haley and vote to reelect Congresswoman Nancy Mace.
Voting in the primary ends on June 14th – please send in your ballots!
"The fight for animals is one means for a divided Congress to find common ground and to do good together."
Listen to Nancy talk about her work on the Animal Wellness Podcast
A conservative leader in Congress, U.S. Representative Nancy Mace is a champion of animal welfare and working with remarkable effectiveness to pass national policies that help not only animals, but also the people of the Low County and in the rest of the United States. 
She has been a lifelong animal lover, but she also understands that animal cruelty is often associated with other criminal behavior. She also recognizes that extreme mistreatment of animals may lead to dangerous viral threats that threaten Americans and weaken our economy.  She's also working to lift needless requirements on business and also to stop government waste, fraud, and abuse, especially when it comes to animal testing.
Halting Needless Animal Testing
Nancy is one of the leaders of the FDA Modernization Act, H.R. 2565, that is poised to pass the Congress this year.  The FDA Modernization Act updates an archaic, 83-year-old statutory mandate for animal testing in drug development, unleashing 21st-century strategies in our nation's crucial public-private drug development work.
Our government has for decades been forcing private businesses to spend money on inaccurate, unreliable, expensive animal tests, and that must stop. Our drug development paradigm is broken, with high drug prices, no meaningful treatments for a wide range of afflictions, and long delivery times to patients for new drugs. Adverse reactions to drugs are the fourth leading cause of death in the United States.
Between 90 and 95% of drugs found safe in nonclinical tests fail during human clinical trials. In-vitro testing methods are 1.5- to 30-times less expensive than animal tests, and their use could bring new drugs to market in half the time. Human-relevant cell-based assays, organs-on-a-chip, human-on-a-chip models, and sophisticated computer modeling are far superior to animal tests in predicting human responses to drugs

Helping Our Pets When Disasters Strike
Mace cosponsored the PREPARED Act that would help both animals and pet owners in times of crisis like Hurricane Florence that brough widespread flooding to the Palmetto State in 2018.
Congresswoman Mace is also pushing the U.S. Centers for Disease Control and Preventing to lift its unwarranted ban of canine imports from 113 countries, a policy implemented as a knee-jerk reaction to three dogs from two countries entering the U.S. with rabies. This has caused countless rescues to cease imports of rescue dogs from dog meat farms in China and prevented our brave military personnel and Foreign Service employees from bringing their dogs back home to the U.S. once their service ends.
Halting Dangerous Viral Threats from Mink Farms Selling Pelts to Communist China
Mace led a set of conservative Republicans to join with some powerful Democrats in Congress to win a vote in the U.S. House to phase out mink production in the U.S. because captive mink on fur farms are uniquely capable of spawning deadly COVID-19 variants and threatening our homeland.
A massive worldwide SARS-CoV-2 epidemic in farmed mink has paralleled the human COVID-19 pandemic, with outbreaks on at least 450 mink farms in 13 countries in Europe, Canada, and the United States.  Only humans and mink contract the virus in large numbers and are able to spill it back to other species – with more than 21 million captive mink and more than 15 million people perishing directly as a result of the pandemic.
Mink farms in Europe and the U.S. have spawned five deadly COVID-19 variants (Cluster 5 in Denmark and Netherland, Marseille-4 in France, N501T in Michigan, Y453F in Poland, and unreported mutations in Latvia.)  The Centers for Disease Control even attempted to cover up a spillover that occurred in Michigan and could have infected millions of Americans.
It makes little sense to keep afloat a dying, subsidized mink industry that threatens human and wildlife health for a luxury fashion item. It is entirely an export market, with nearly all pelts sold to high-end consumers in China. China's elites get the coats and they outsource the viral risk to our homeland.
Halting USDA Corruption
Mace joined Rep. Dina Titus, D-Nev. in introducing the Opportunities for Fairness in Farming (OFF) Act, that would create a transparency and accountability within the USDA's corrupt Commodity Checkoff Programs that have been ridden with scandal. These checkoff's have long illegally utilized tax-payer dollars to lobby for policies that are harmful to both animals and small family farmers. This has led to the globalization and monopolization of industrial agriculture. Conservative Senators Mike Lee, R-Utah, and Rand Paul, R-Ky., are leading this fight in the U.S. Senate.
Combating Illegal animal fighting
Nance Mace knows that dogfighting and cockfighting are illegal and bound up with illegal gambling, narcotics trafficking, and human-on-human violence.  She has led and signed numerous Congressional letters to address illegal cockfighting shipments via the U.S. Postal Service to Guams. Mace cosponsored the Animal Cruelty Enforcement (ACE) Act that would create an Animal Cruelty Crimes Unit at the U.S. Dept. of Justice to allow the United States to crack down on these animal fighting networks.  
Protecting Horses from Cruelty
Mace is helping to lead efforts to ban the shipping of our American horses to be butchered at unregulated slaughter plants in Mexico.  Senator Lindsey Graham is leading this fight in the Senate.  She helped pass that legislation in the House, but the Senate has filed to act.
Paid for by Animal Wellness Action, not authorized by any candidate or candidate's committee. 611 Pennsylvania Ave., S.E. #136, Washington, D.C. 20003