Animal Wellness Action Announces First in Run of Webinars on Animal Welfare, Human Wellness
Claudia Miller Ignite Series launches with an examination of the 'milk mandate' in the National School Lunch Program and the need for a plant-based alternative
Washington, DC – Animal Wellness Action, a Washington, DC-based animal-advocacy group, has announced the first in a monthly series of educational webinars that will focus on issues relating to animal welfare and human wellness, providing attendees not only key background information but also practical guidance on how to help advance our key goals in the public policy domain.
The first event will occur Thursday, April 27, 8 p.m. ET/5 p.m. PT. Entitled "Ending the USDA's 'Milk Mandate' in Schools and Providing a Plant-Based Option for Kids," the hour-long session will demonstrate the need for the USDA to make a very modest but important change to its reimbursement policies for nutritious fluid beverages under the National School Lunch Program. This nutrition-assistance program provides important foodstuffs for 30 million kids in our public schools.
The hour-long interactive event will feature Wayne Pacelle, president of Animal Wellness Action and the Center for a Humane Economy; Dotsie Bausch, Olympic athlete and president of Switch4Good, a health-and-wellness advocacy group; and Dr. Dr. Lakshman Mulpuri, chief executive of PlantsNourish.
Participants can learn more and register free at https://bit.ly/MilkMandate.
The Milk Mandate
Under its current nutrition-assistance framework, USDA won't reimburse school districts for any nutritious alternative to cow's milk, mandating that each child gets a carton of milk on his or her breakfast and lunch tray. Each year, the USDA spends $1 billion to reimburse school districts for buying cow's milk, but one study from the agency estimates that about 10 million of those 30 million kids throw away the milk unopened. Add in the kids who sip and then toss the remainder, and it becomes easy to accept another study that estimates about 45 million gallons of milk each year are dumped down the drain in schools.
This circumstance amounts to a massive waste of taxpayer dollars ($300 million/year), a failure to deliver sufficient nutrition that is the core purpose of this nutrition-assistance program, and an unacceptable waste of a product that comes from the metabolic work and sacrifices of cows.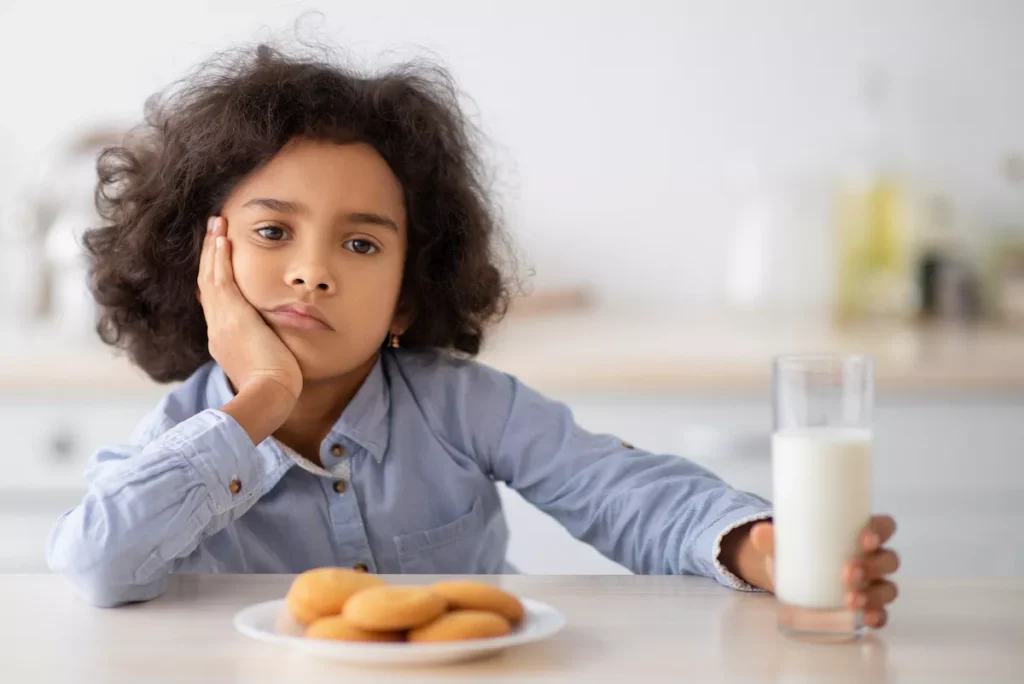 Cow's milk alone cannot meet the needs of America's kids, because millions of them are lactose intolerant. Based on documented rates of lactose intolerance among different ethnic groups, perhaps a majority of the 30 million kids may have some degree of lactose intolerance (LI), with especially high rates for blacks, Latinos, Asian Americans, and Native Americans. In fact, the National Institutes of Health reports the majority of all people have a reduced ability to digest lactose after infancy, and LI "is also very common in people of West African, Arab, Jewish, Greek and Italian descent."
The ADD SOY Act: Proposed Remedy
The H.R. 1619, known as the Addressing Digestive Distress in Stomachs of Our Youth, or ADD SOY Act, would require public schools to offer soy milk to children participating in the National School Lunch Program and direct the USDA to fully reimburse schools for the cost of that plant-based alternative. U.S. Representatives Troy Carter, D-La., and Nancy Mace, R-S.C., introduced the ADD SOY Act to address this long-standing problem in a key national nutrition-assistance program and promise to deliver school choice to kids.
The April 27 webinar will help parents, school officials and others identify the problems with the federal milk mandate and seek to remedy the problem for kids and taxpayers. Soy milk is to be offered as an option because it is recognized as nutritionally equivalent to cow's milk under the American Dietary Guidelines.
"Our nation's 'milk mandate' is a sure-fire way to cause digestive distress and to impede classroom learning for millions of school kids with lactose intolerance," said Wayne Pacelle. "It constitutes reckless wasting of tax dollars and irresponsible food waste, easily remedied by giving kids a soy milk option."
"It is both thrilling and heartening to see this bill come alive after years of fighting for all children with lactose intolerance or dairy allergies," said Dotsie Bausch. "In the name of social and educational justice, we now urge our leaders in the House to amend the Richard B. Russel National School Lunch Act so that all children have access to nutrition that does not make them sick."
"It is abundantly clear that the current milk substitute system that USDA employs is delivering detrimental impacts on BIPOC school children," said Rep. Carter. "Too many children who cannot safely or comfortably consume dairy are being forced to accept containers of cow's milk on their lunch trays. My ADD SOY Act ensures the health and nutritional needs of all our nation's students are met. America needs to embrace its diversity at the lunch counter." You can see a brief floor speech from Rep. Carter here.
"The federal government is wasting $300 million of our tax dollars a year by mandating that every school kid getting nutrition assistance has a carton of cow's milk on the tray even though millions of them don't want it and get sick from it," said Rep. Mace. "Thirty percent of kids throw the milk away, and hundreds of millions of tax dollars wasted is not simply spilled milk. Kids should have a healthy choice in lunchrooms."
Animal Wellness Action (Action) is a Washington, D.C.-based 501(c)(4) organization with a mission of helping animals by promoting legal standards forbidding cruelty. We champion causes that alleviate the suffering of companion animals, farm animals, and wildlife. We advocate for policies to stop dogfighting and cockfighting and other forms of malicious cruelty and to confront factory farming and other systemic forms of animal exploitation. To prevent cruelty, we promote enacting good public policies and we work to enforce those policies. To enact good laws, we must elect good lawmakers, and that's why we remind voters which candidates care about our issues and which ones don't. We believe helping animals helps us all.
The Center for a Humane Economy ("the Center") is a non-profit organization that focuses on influencing the conduct of corporations to forge a humane economic order. The first organization of its kind in the animal protection movement, the Center encourages businesses to honor their social responsibilities in a culture where consumers, investors, and other key stakeholders abhor cruelty and the degradation of the environment and embrace innovation as a means of eliminating both.
Switch4Good is an evidence-based nonprofit organization advocating for a dairy-free world and dismantling the disinformation Big Dairy feeds the public, for the sake of human health, food justice, and the future of our planet. Its coalition of health experts, athletes, social justice warriors, enlightened policymakers, and progressive corporations promotes ethical lifestyles and widespread behavioral change related to how we eat.