Louisiana was the last legal bastion of cockfighting in the United States, but that law enacted 15 years ago makes cockfighting a felony in the state.
Washington, D.C. — Today, Animal Wellness Action and the Center for a Humane Economy issued a statement on news that a Harvey, La., man was arrested on suspicions of involvement in illegal cockfighting in Jefferson Parish. Jefferson Parish authorities seized 72 birds and found 10 dead animals at the location. Sheriffs' deputies, who obtained a warrant to enter the property, also found razor-sharp fighting implements affixed to the birds' legs to enhance the bloodletting and accelerate the outcome of the combat.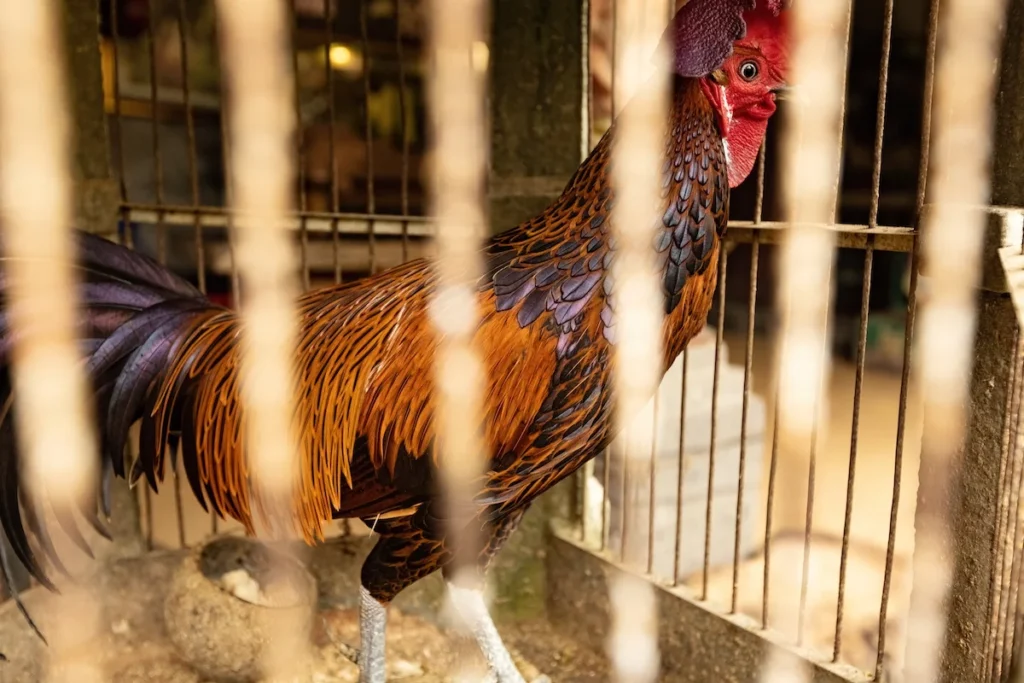 Wayne Pacelle, president of Animal Wellness Action, issued the following statement:
"We applaud Jefferson Parish law enforcement, acting on a tip from a concerned citizen, for making arrests in a cockfighting case in their jurisdiction," said Wayne Pacelle, president of Animal Wellness Action. "Louisiana was the last state to ban cockfighting, and that nearly unanimous act of state lawmakers in Baton Rouge should provide a recent reminder to anyone tempted to conduct staged knife fights between animals that it is a high-risk form of recreation. Cockfighting is a felony, and you can go to prison for a long time if you engage in this form of malicious cruelty."
Animal fighting is typically bound up with illicit gambling, narcotics trafficking, money laundering, and other crimes. It is also a federal crime to engage in animal fighting or a wide range of associated activities, including possessing fighting animals or being a spectator at a fighting venue. Animal Wellness Action provides rewards of $2,500 to individuals who report animal-fighting crimes that result in an arrest and conviction. Reports can be made to animalcrueltytips@animalwellnessaction.org.
Meanwhile, Animal Wellness Action is working with Senator John Kennedy, R-La., and Rep. Troy Carter, D-La., to advance the FIGHT Act in Congress. The authors of the Fighting Inhumane Gambling and High-Risk Trafficking (FIGHT) Act, S. 1529 and H.R. 2742, hope to include the provision as an amendment to the Farm bill. Both pieces of legislation were driven by concerns for the barbarism of animal fighting, other criminal behavior commingled with it, and disease threats to poultry posed by transporting fighting roosters.
The FIGHT Act, amending Section 26 of the Animal Welfare Act, would enhance the enforcement opportunities by banning simulcasting and gambling of animal fighting ventures; halting the shipment of mature roosters (chickens only) shipped through the U.S. mail (it is already illegal to ship dogs through the mail); creating a citizen suit provision, after proper notice to federal authorities, to allow private right of action against illegal animal fighters; and enhancing forfeiture provisions to include real property for animal fighting crimes.
More than 270 organizations, businesses, and agencies have endorsed the FIGHT Act, including the American Gaming Association, the United Egg Producers, and the Small and Rural Law Enforcement Executives' Association.
"If law enforcement wants to crack down on a wide range of crimes in the community, make a cockfighting bust," added Mr. Pacelle. "These are venues where a cluster of people committing a wide range of crimes assemble."
Media Resources: Press release on introduction of Senator Kennedy's legislation. A blog on murder and mayhem associated with animal fighting. Fact sheet on S. 1529/H.R. 2742. Blog on federal courts affirming national ban on animal fighting. Research paper on cockfighting and avian influenza and other infectious diseases.