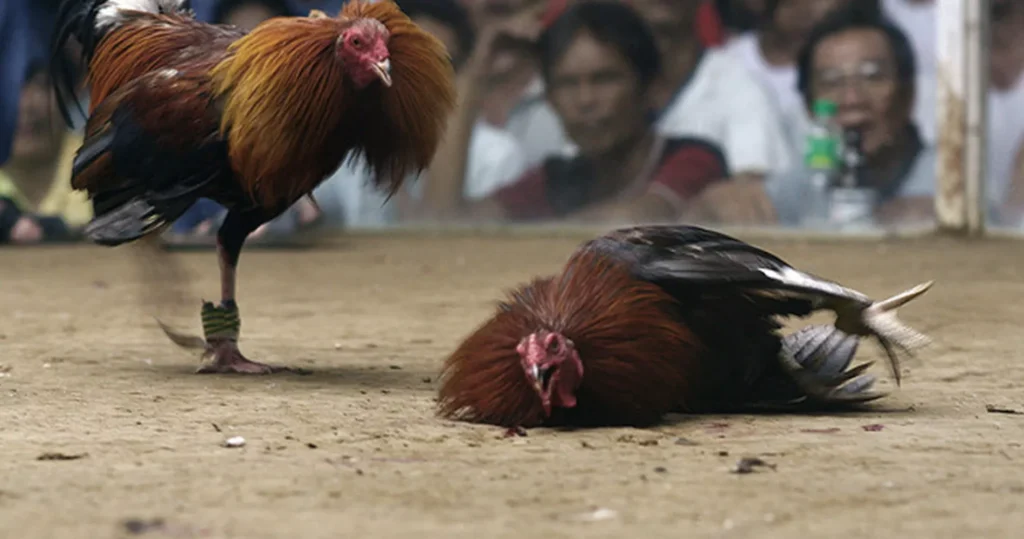 State Legislative News Analysis
Pro-Cockfighting Bills Expected to Fail in Oklahoma Legislature
The measures are likely to meet same fate as prior years' efforts to unwind the state's most important anti-cruelty law
In Oklahoma, pro-cockfighting bills in the state House and Senate are on life support, despite a well-funded lobbying campaign by the Oklahoma Gamefowl Commission (OGC); the work of its professional lobbying firm, A&A Advocates: and tens of thousands in donations from the group's PAC to first-time candidates last fall and to sitting lawmakers seeking re-election in the Sooner State. According to a news report in The Oklahoman, the OGC PAC raised $71,000 by the beginning of the legislative session and had donated to at least 34 candidates and lawmakers.
The House's leading cockfighting enthusiast, Rep. J.J. Humphrey, R-Lane, has flirted with several different iterations of his bill, H.B. 2530. As introduced, it sought to allow counties to conduct a vote of its citizens and to make cockfighting penalties negligible in their jurisdictions. But he also tried to sell amendments to decriminalize most cockfighting crimes and to gut the penalties statewide without the vote of the counties. His Senate counterpart on this effort, Sen. Lonnie Paxton, R-Tuttle, introduced SB 1006 to allow counties to opt out of the meaningful penalties for cockfighting crimes.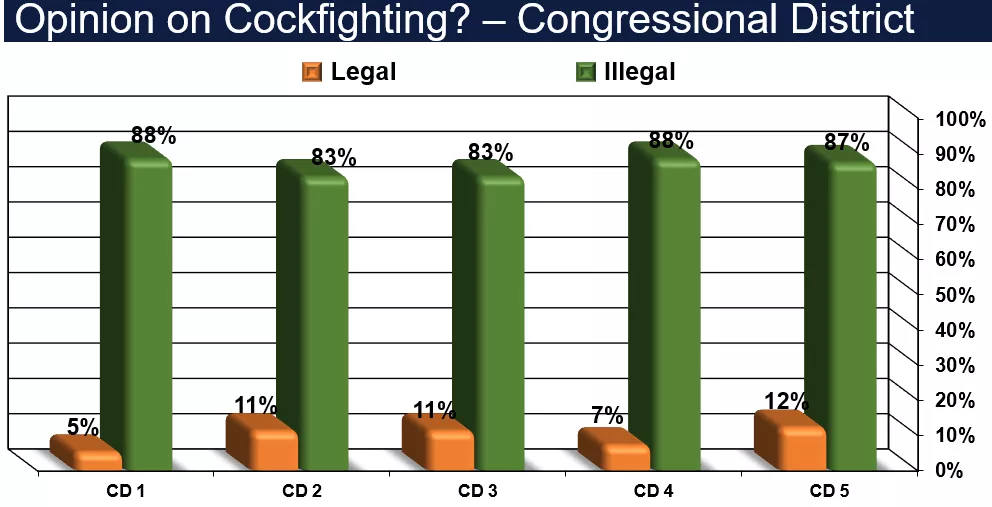 Sooner County Survey. Credit: Pat McFerron, Cole Hargrave Snodgrass & Associates, 3-23
Paxton's SB 1006 died from inaction in the Senate. But Humphrey brought H.B. 2530 to the floor as the county-option bill, and on March 19 and then on March 20, it came to the floor with its title stripped and had to have two votes to keep it alive – getting the minimum-required vote of 51 votes in the 101-member chamber on the second try. The effect of the title-stripping turned the vote largely into a procedural action, handing it off to the Senate but not formally giving the measure House approval on the policy. HB 2530 faces its next do-or-die test later this week in the Senate, with the bill advancing only if a committee takes it up and passes it. Despite the drama over the votes in the House, HB 2530 is still essentially at the starting gate, never having substantively passed either chamber of the legislature as an intact measure.
Sooners Don't Like Cockfighting
Cockfighting could not be more unpopular in Oklahoma, according to a Sooner Survey released in late March. That poll, a statistically valid sample of the statewide electorate, revealed that 87 percent of Oklahoma favor a ban on cockfighting. "Even in the southeast (86 percent) and southwest (80 percent), we have uber-majorities wanting cockfighting to be illegal. In fact, in each of the five congressional districts in Oklahoma, at least 83 percent want cockfighting to be illegal and in no instance does support for legality exceed 12 percent," observed Pat McFerron, president of Cole Hargrave Snodgrass & Associates and architect of the Sooner Survey. The survey, with topline results published in The Oklahoman, on April 6, is the first independent poll to examine attitudes toward cockfighting in the state in years.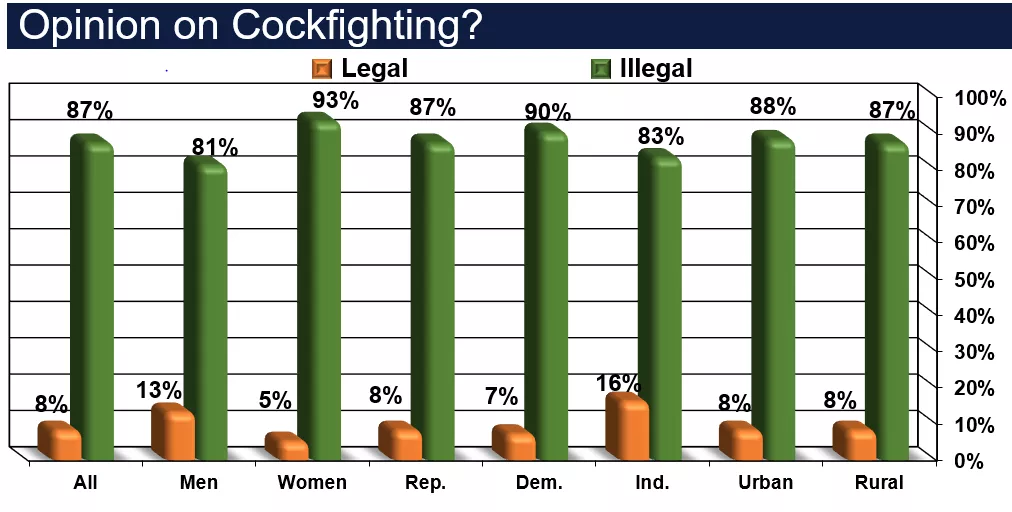 Sooner County Survey. Credit: Pat McFerron, Cole Hargrave Snodgrass & Associates, 3-23
"Not only do Oklahomans want cockfighting to be illegal, but they want it to be a felony," added McFerron. "When asked about changing the penalty for participation to a misdemeanor, 71 percent oppose this change while less than a quarter support it."
Cockfighters Threaten to Deter New Business, While Making Phony Criminal Justice Claims
"Popular support for decriminalizing cockfighting is basically non-existent in Oklahoma," said Dr. Thomas Pool, D.V.M., the senior veterinarian with Animal Wellness Action and a native of Comanche County in the southwest part of the state. "What's more, there are no major organizations in Oklahoma that back the legislation to decriminalize cockfighting or weaken penalties. The cockfighters have not a single farming, law enforcement, criminal justice reform, or veterinary group backing their efforts. They are on their own in the political wilderness, virtually alone in wanting to turn back the clock back to the moral standards of the early 19th century."
Dr. Pool, a retired colonel in the U.S. Army who ran the Veterinary Command for three branches of the U.S. military and who grew up on his family's 100-year-old ranch, said that even having this debate hurts Oklahoma's image.
"We are a business-friendly, family-friendly state, but we are losing the battle to attract new businesses and our flirtation with decriminalizing cockfighting may be part of the explanation for those failures," Dr. Pool said. "Business leaders, along with anyone else with an ounce of sense, understand that cockfighting is the very definition of barbarism and backwardness. Major companies involved in manufacturing, computing, and other enterprises won't come to our state if they believe our political leaders fail the simple test of determining that cockfighting is a moral wrong."
The cockfighters running the Oklahoma Gamefowl Commission are posing as advocates of criminal justice reform and claiming that the public doesn't want to see people go to prison for fighting roosters with knives or gaffs attached to their legs. Animal Wellness Action (AWA) has called for the Oklahoma Ethics Commission to investigate the cockfighters for failing to report its donors, as required by law. An AWA review of the group's Facebook page reveals the group has thanked dozens of cockfighters around the country who donated to this effort. The PAC money has almost certainly come from the ill-gotten gains from illegal fighting and gambling activities and then flowed to lawmakers' coffers.
Even though the cockfighters falsely claim that their lobbying campaign is explained by criminal justice concerns, they haven't urged that felony-level penalties for dogfighting or other forms of malicious cruelty be wiped away. In fact, the felony-level penalties for cockfighting approved overwhelmingly by the vote on State Question 687 two decades ago are identical to the penalties that lawmakers adopted for dogfighting offenses. Oklahoma is like most states in having precisely the same penalties for dogfighting and cockfighting. Under federal law, animal fighting is a felony offense, with exactly the same penalty framework whether dogs or roosters are conscripted for fights to the death.
A third bill, HB 1792, which seeks a broad reclassification of felony-level crimes, not only reduces penalties for cockfighting but also seeks to reduce penalties for dogfighting to a maximum fine of $500. That bill is expected to fail in a state with a self-image of law-and-order values, and it's not clear if the cockfighters have had any role in influencing its provisions. AWA is closely watching that bill and strongly opposes it.
Lawmakers Court Political Trouble by Aligning with Cockfighters
One of the leading and most respected Republican political consultants in Oklahoma, McFerron believes that lawmakers who support legislation to enable cockfighting are taking an undue political risk, noting that the issue is a hot-button subject for voters. "Fully 77 percent of voters say they are at least inclined to vote against anyone advocating for a lower criminal classification for cockfighting while only 11 percent say they would vote for such a candidate," he said.
Those attitudes toward cockfighting in Oklahoma resemble polling done in Louisiana in 2004 that showed that a pro-cockfighting candidate seeking statewide office would face political jeopardy for taking such a pro-cruelty stance. In a U.S. Senate race in 2004, U.S. Rep. David Vitter, R-Metairie, bested Rep. Chris John, D-Crowley, in a face-off between two general-election candidates with contrasting positions on cockfighting. Cockfighting was widely recognized as a huge factor in the race, with a post-election survey revealing 32 percent of white women crossed over and voted for Vitter.
When voters approved a ban on cockfighting in Oklahoma in 2002, they did so by a wide margin, making Oklahoma the 48th state to forbid the practice. The same year voters adopted the Oklahoma law, Congress amended a weak 1976 anti-animal fighting law and passed a substantive reform that banned any interstate or foreign movement of fighting animals.
Five years later, in 2007, New Mexico and Louisiana legislators finally followed suit, banning cockfighting, establishing bans in all 50 states. Federal lawmakers, in that same year, passed the Animal Fighting Prohibition Enforcement Act 368-38 and unanimously in the Senate, making commerce in fighting animals or fighting implements a federal felony. Lawmakers upgraded the law three subsequent times, including in an effort led by Sen. Vitter to make it a federal crime to be a spectator at an animal fighting venture (Roll Call $154, 88-11). In 2018, Congress extended all animal fighting prohibitions to Puerto Rico, Guam, and the other U.S. territories, outlawing cockfighting in all of those jurisdictions. That bill was approved without dissent in the U.S. Senate and by a vote of 359-51 in the U.S. House, with Oklahoma's two most veteran federal lawmakers, U.S. Reps. Tom Cole and Frank Lucas, favoring the prohibition.
The state legislative maneuvering now being undertaken by Rep. Humphrey and Sen. Lonnie Paxton, R-Tuttle, conflicts with the national consensus against animal fighting. No state has ever weakened its anti-cockfighting law by an act of its legislature. The public wants strong laws and penalties for dogfighting and cockfighting, and it also wants the laws enforced.
"The problem is not that our anti-cruelty laws are too harsh," said Drew Edmondson, former Oklahoma Attorney General (1994-2010) and co-chair of the National Law Enforcement Council for Animal Wellness Action. "Rather it's that cockfighters are exhibiting knowing and reckless disregard for our laws, and some county sheriffs and district attorneys are failing to uphold the law without fear or favor."
Edmondson was attorney general when Oklahoma approved State Question 687, and he defended the measure against cockfighters' efforts to suspend the law in the counties. In 2004, the Oklahoma Supreme Court unanimously ruled in 2004 that the vote of the people was a proper exercise of state authority.
Despite that legal clarity and an unambiguous vote of the people, there have been only 29 enforcement actions related to cockfighting crimes (1.7/year) in 76 of the 77 counties between 2004 and 2022. That is the case even though Animal Wellness Action has provided detailed information on major cockfighting complexes and trafficking to local law enforcement and has called Oklahoma the "cockfighting capital of the United States. Only six people have gone to prison for these crimes – all of them career criminals with extensive rap sheets, including violent crimes, according to our analysis of arrest information provided by the District Attorneys Council
There are good reasons why cockfighting is a felony everywhere in the United States, including under state law in all states bordering Oklahoma. It is barbaric, it threatens to spread avian diseases, and it is bound up with other crimes. Just last week, there was a shooting at a major cockfighting complex in Dallas – one more outburst of violence at an enterprise that is violent at its core.
Federal Law Against Cockfighting Establishes Strict and Overlapping Penalties
Even if the cockfighters were to succeed in their long-shot campaign to weaken Oklahoma's anti-animal fighting law, they'll still face the risk of felony arrest for their conduct. Possessing fighting birds and trafficking them is explicitly outlawed and is a felony under federal law. The federal Animal Welfare Act makes it "unlawful for any person to knowingly sell, buy, possess, train, transport, deliver, or receive any animal for purposes of having the animal participate in an animal fighting venture." (U.S.C. 2156 Section 26, Subsection (b)). Violators face up to five years in prison and a $250,000 fine per violation.
Oklahoma's cockfighters claim they just want to continue to do their business of selling birds to other states and foreign nations, but that's precisely the behavior that the federal anti-animal fighting law seeks to prohibit. The cockfighters' birds are distinct breeds trained to fight. Cockfighters in Mexico, the Philippines, and other places will be interested in the birds only if the sellers can prove they win cockfighting derbies. Oklahoma cockfighters have sent 5,000 fighting birds from Oklahoma to Guam, and there could be no other purpose for the shipment of these birds but fighting because Guam has no show-bird industry and no commercial broiler or laying hen industry.
Cockfighters, who attach knives to the animals' legs to enhance the bloodletting of their illegal gambling enterprise, are members of an organized crime network. Oklahoma's lawmakers should turn away their pleadings, their protests and their ill-gotten money. When the cockfighters come knocking, the lawmakers should dial up law enforcement at the state and federal levels and make the proper referrals for a home visit.