Animal Wellness Action, SHARK Statement on Federal Grand Jury Indictments of Cockfighters Operating in Kentucky
Organization lauds federal enforcement actions, but decries lack of state enforcement of cockfighting complexes 'hiding in place sight'
Louisville, KY — Animal Wellness Action and Showing Animals Kindness and Respect (SHARK) commended federal law enforcement authorities for bringing Grand Jury indictments under the Animal Fighting Prohibition Enforcement Act against a series of individuals operating a cockfighting complex in Fletcher County, near the border with West Virginia and Virginia.
Many cockfighting enthusiasts gather at pits on state borders and co-mingle birds from far-off places, creating ideal conditions for the spread of diseases that threaten commercial poultry operations. The federal indictments disclose that federal law enforcement authorities gained intelligence at a series of fights at the pits in Letcher County, with as many as 400 people in attendance at two of the illegal fighting derbies.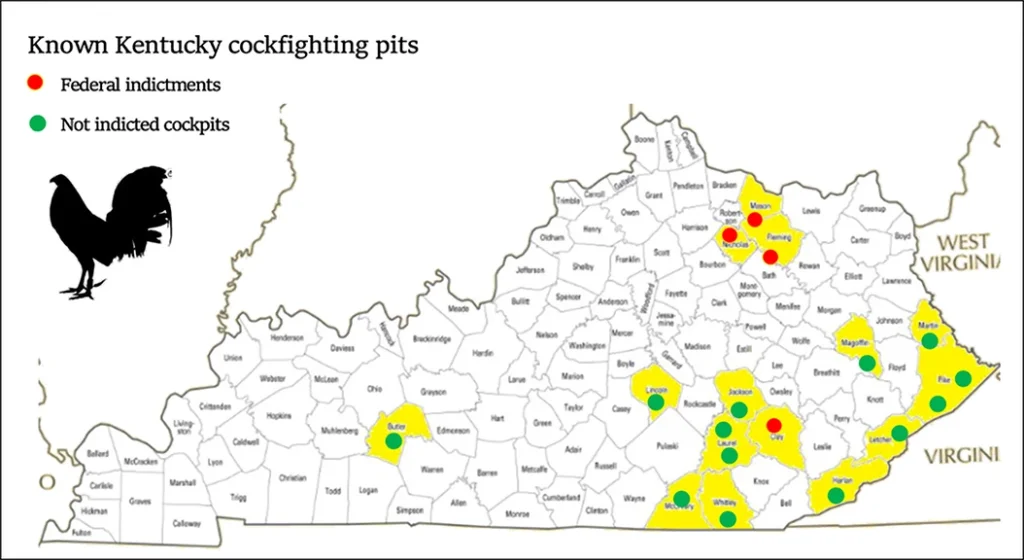 Animal Wellness Action has issued a series of reports on illegal gamecock breeders operating in the state, while SHARK has penetrated a series of illegal fighting pits throughout the state, though concentrated in Eastern Kentucky. Earlier this year, the groups released a map identifying 16 fighting arenas that had been recently operating in the state.
"Federal law makes operating a cockfighting complex a federal crime, and the people who build and operate these dens of cruelty must be prosecuted to the fullest extent of the law," said Wayne Pacelle, president of Animal Wellness Action, which has investigated cockfighting breeders throughout the state. "We know where so many other pits are operating and these indictments remind other cockfighters that the feds may be knocking on their doors next." Mr. Pacelle has led federal legislative efforts that have upgraded the federal law against animal fighting five times between 2002-2018, and there is an additional upgrade (the FIGHT Act) that is likely to be considered this year to strengthen federal law even further.
Steve Hindi and a team of SHARK investigators have infiltrated fighting pits throughout the state and piloted drones to video the cockfighting complexes as people filed into the fighting pits. Time and again, Kentucky State Police have refused to respond with officers to break up the fights and to make arrests, putting the burden on the federal government to stop this lawlessness. 
"The Kentucky State Police have been delinquent in not bringing a single cockfighting case this year despite our giving them a roadmap of the cockfighting pits operating throughout eastern and central Kentucky," added Steve Hindi, president of Showing Animals Respect and Kindness. "Governor Beshear has sidestepped his responsibility in enforcing the laws of the Commonwealth. The Kentucky State Police should be partnering with the federal government in these cases, but they'd been standing on the sidelines."
Both the U.S. House of Representatives and U.S. Senate are now considering the Fighting Inhumane Gambling and High-Risk Trafficking (FIGHT) Act, and the authors hope to include the provision as an amendment to the Farm bill. Both pieces of legislation were driven by concerns for the barbarism of animal fighting, other criminal behavior commingled with it, and disease threats to poultry posed by transporting fighting roosters.
The FIGHT Act, amending Section 26 of the Animal Welfare Act, would enhance the enforcement opportunities by banning simulcasting and gambling of animal fighting ventures; halting the shipment of mature roosters (chickens only) shipped through the U.S. mail (it is already illegal to ship dogs through the mail); creating a citizen suit provision, after proper notice to federal authorities, to allow private right of action against illegal animal fighters; and enhancing forfeiture provisions to include real property for animal fighting crimes.
NOTE: Animal Wellness Action has prepared a folder of assets for journalists covering this issue. Assets may be viewed and downloaded here. Express permission is granted for their use by media.
Animal Wellness Action is a Washington, D.C.-based 501(c)(4) whose mission is to help animals by promoting laws and regulations at federal, state and local levels that forbid cruelty to all animals. The group also works to enforce existing anti-cruelty and wildlife protection laws. Animal Wellness Action believes helping animals helps us all. Twitter: @AWAction_News
SHARK is a non-profit organization with supporters around the U.S. and beyond. SHARK receives no government funding and completely relies on donations and grants to work on issues ranging in scope from local to worldwide. With a small core of volunteers, and a staff of five, SHARK battles tirelessly against rodeos, bullfighting, pigeon shoots, turkey shoots, canned hunts and more. President Steve Hindi has an open invitation to debate "the opposition." Because of his domination of past debates with animal abusers, however, it has been years since the opposition has taken him on.