Washington, D.C. — Today, Animal Wellness Action, the Animal Wellness Foundation, Center for a Humane Economy, SPCA International, Protect Our Wildlife-Vermont, and other organizations lauded House Foreign Relations Committee Chairman Mike McCaul, R-Texas, and Reps. Ted Lieu, D-Calif., Brian Fitzpatrick, R-Penn., and Annie Kuster, D-N.H. for introducing legislation to protect the world's eight species of bears from poaching and wildlife trafficking rings. The Bear Poaching Elimination Act, by forbidding any interstate transport or foreign sales of gall bladders and bile, seeks to eliminate the killing of bears for trafficking of a single body part of the animals — similar in intent to U.S. policies that seek to halt trade in rhino horns, ivory, and shark fins.
In addition to seeking gall bladders from bears poached in the wild, China has long operated "bear farms," with the animals kept in pits and abused, to drain bile from their bladders with no pain-killing agents or antiseptic treatments. The end use of the bile from poached or "farmed" bears is employed as a palliative or treatment in Traditional Chinese Medicine. Bear farms are being phased out in South Korea and Vietnam, and while that decline is a very good outcome, it will result in greater demand of bile from wild bears, with North America having the biggest populations of bears in the world and therefore representing the biggest target for poachers.
In 2022, a new threat to bears emerged. The Chinese Ministry of Health announced that bear bile was an acceptable palliative treatment for COVID-19, with surges in infections threatening bears throughout the world. China already had one enormous surge in COVID-19 cases, and others may follow.
"We shouldn't be killing rhinos for their horns, elephants for their tusks, or bears for their bladders," said Wayne Pacelle, president of Animal Wellness Action and the Center for a Humane Economy. "There are accepted alternatives to bear bile in Traditional Chinese Medicine and conventional medicine, so there's just no need for this trade. It should be shut down."
"The cruel treatment of bears in countries like China has harmed these creatures and risked their extinction," said Rep. Mike McCaul R-Texas. "The U.S. must lead in implementing responsible and humane wildlife trade policies — just like my Shark Fin Sales Elimination Act, which banned the trading of shark fins. Today, I'm proud to introduce the Bear Protection Act along with Reps. Lieu, Fitzpatrick, and Kuster to help end bear poaching and protect these species from exploitation."
"As a proud member of the Animal Protection Caucus, I'm pleased to reintroduce the Bear Protection Act with Chairman McCaul," said Rep. Ted Lieu, D-Calif. "Our bill protects bears by banning the import, export, possession, transport and sale of bear organs. Commercial poaching has led to a decline in bear populations across the world. We must crack down on this inhumane practice to protect these majestic animals."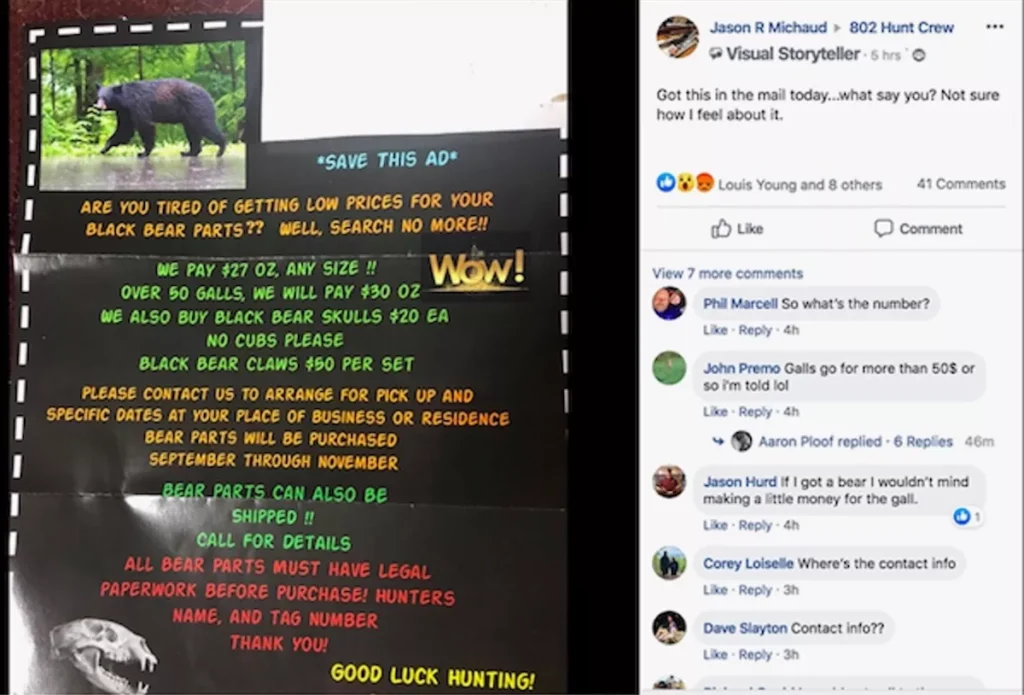 "The United States does not want the absence of wildlife trade policies in China to undermine U.S. wildlife protection efforts," said Brenna Galdenzi, president and co-founder of Protect Our Wildlife. "Vermont is one of the few states without a ban on trading in bear gall bladders, and I see evidence that wildlife dealers are paying cash for these parts and likely driving up bear kill numbers in our state. The only reason that a dealer pays for gall bladders is to send the bile to China."
Senator John Kennedy, R-La., and Tammy Duckworth, D-Ill., are expected to introduce a Senate companion bill soon. U.S. Senate Majority Leader Mitch McConnell, R-Ky., introduced a nearly identical bill two decades ago, and his bill passed the Senate twice by Unanimous Consent, but the measures were not acted upon by the House.
In July 2021, in testimony submitted to the House Natural Resources Committee, a senior official from the U.S. Fish and Wildlife Service expressed support for the intention of this legislation, noting that "bear gallbladder trafficking is big business" and "the price for an illegal bear gallbladder can exceed $1,000 depending on the market." He added, the "bear parts trade has caused rapid declines in Asian bear populations, and other species such as the American black bear are now being targeted to fill the demand for bear parts."
Forty states have laws on the books to address this trade, revealing the emerging consensus to address this problem. The Bear Poaching Elimination Act is needed to make a global statement about the trade from the United States, and to address gaps or inconsistencies in state laws. A trafficker in Colorado may face up to three years in prison and a $100,000 fine, while a trafficker in Kentucky may receive only a $100 fine. Federal sentencing guidelines dictate that the market value of the item must be at least $350 for a prosecution under the federal Lacey Act, but the courts attribute the value of a gallbladder to only $280.