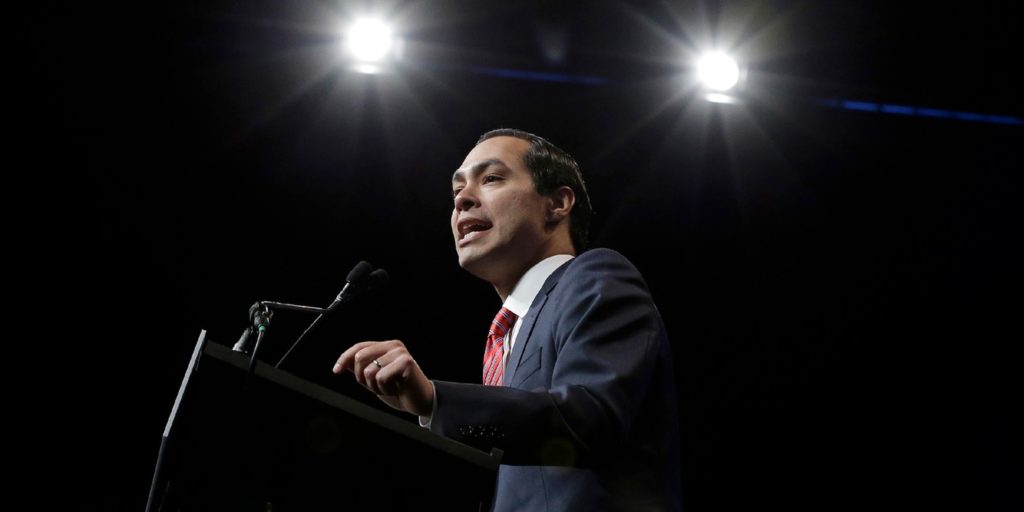 Julian Castro Becomes First Major Candidate to Announce Comprehensive Policy on Animal Protection
Rep. Tulsi Gabbard Says She's a Vegan, Condemning Factory Farming
Announcing that "we have a responsibility to protect and care for them," former San Antonio Mayor and U.S. Secretary of Housing and Urban Development Julian Castro announced on his website a wide-ranging and sound platform on animal protection, calling for a national anti-cruelty law, a crackdown on puppy mills and factory farms, work to protect rare species, ending horse slaughter and soring, and initiating a national campaign to end the euthanasia of healthy and treatable animals.

He pointed to his success as mayor of driving down euthanasia rates in one of America's biggest cities. Since he's not served in Congress, the public didn't have much insight into his views on a wide range of policy issues that have been examined there, but today's statement makes clear where he stands on the issues.  He is the first major candidate to devote space on his website to animal protection.

At the same time, there is a Youtube clip circulating where Congresswoman Tulsi Gabbard, in a speech, reiterates not only her strong support for public policies to help animals, but also her personal commitment to these issues. A long-time vegetarian, she announced she's been vegan for the last year, and she condemned factory farming.

Indeed, there is a strong roster of candidates when it comes to animal welfare, with Senator Cory Booker having staked out a very strong claim on these issues. Also a vegan, he has helped to shepherd the passage of a federal law banning cockfighting and dogfighting in the territories and to create a legal standard to make animal testing a last resort in the safety testing of chemicals.  He is also the Senate author of a bill to ban the sale of shark fins.

On the other hand, Washington Governor Jay Inslee, who has had an otherwise excellent record on animal protection, has stayed on the sidelines as his Department of Fish and Wildlife has eliminated entire wolf packs to benefit a single ranching operation whose leaders have championed the idea of wiping out wolves.  His agency is also allowing widespread killing of bears and cougars in the state.
Today, Animal Wellness Action releases its national Presidential Platform on Animal Wellness and Protection. It is also published below.

We hope you'll reach out to the candidates and ask them to embrace this platform and we also hope that every candidate with follow Mayor Castro's lead on publishing a detailed statement of policies on animal protection.  We'll have contact information for the candidates and summaries on all of their records.  We urge you to use this page as a resource as the race moves forward.