New Campaign Contrasting "Innovation vs. Exploitation" Will Launch Seven-Figure TV and Digital Media Buy
NEW YORK, NEW YORK – At a massive rally today at City Hall, over a hundred advocates, elected officials, and energized New Yorkers joined forces in support of a new campaign to replace horse carriages in New York City. The coalition endorsed a bill, sponsored by Council Member Robert Holden (D-Queens) that was introduced earlier today, to transition from the use of outdated horse carriages to safer, cruelty-free electric carriages, like those that have been adopted in major cities across the globe in recent years.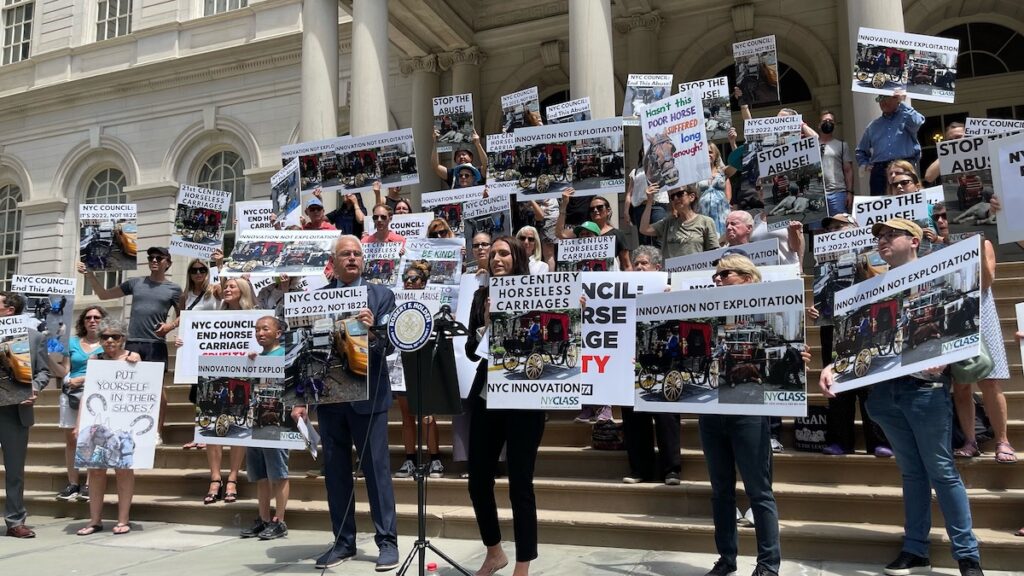 The new bill also will protect workers by providing recourse for those who have been exploited by wealthy horse carriage owners. In addition to reducing animal cruelty and making Manhattan streets safer for New Yorkers, the bill will increase take home pay for carriage drivers by reducing financial burdens associated with horse maintenance and other costs. Today, carriage drivers receive few, if any, benefits or standard worker protections. They are often paid under the table and can be subjected to wage theft.
The campaign, highlighting "Innovation vs. Exploitation," will also be placing a seven-figure television and digital media buy in the coming weeks, in addition to engaging in grassroots organizing, public education, and legislative action to transition from horse-drawn carriages to humane electric carriages.
In recent months, including in June, several violent crashes between horses and vehicles in Manhattan were captured on video, horses have collapsed, and other sick horses were photographed pulling carriages in Central Park with jutting ribs, open sores, swollen legs and reported infections.
"We applaud Councilman Robert Holden for his tremendous leadership and each of the Council Members who've joined in supporting this important legislation that will modernize recreational transportation in our nation's largest city, and finally bring an end to the carriage horse abuse in Manhattan that sparked the animal welfare movement in the United States nearly 150 years ago," said Marty Irby, executive director at Animal Wellness Action, and a former 8-time world champion equestrian who was honored by Her Majesty Queen Elizabeth, II for his work to protect horses. "America was built on the backs of our iconic American equines and they should be revered, not forced to endure dire conditions hauling tourists around on hot asphalt sucking exhaust fumes from a motor vehicle tailpipe."
"I'm elated to join NYCLASS, and Members of the New York City Council today advocating for the humane treatment of these majestic horses," said Jim Keen, D.V.M., Ph.D., director of veterinary science at the Center for a Humane Economy. "As a veterinarian I believe there's no reason to force these treasured equines to endure brutal conditions, tremendous heat, and oncoming traffic in Manhattan when more modern means of transportation like electric carriages are readily available."
"This campaign is putting innovation over exploitation by replacing 19th Century horse carriages with safe, humane 21st Century electric carriages. Unlike horses, electric carriages do not get spooked in busy traffic. Drivers will get more take home pay and benefits. Midtown streets will be safer for all, and animals will no longer be abused or neglected," said Edita Birnkrant, NYCLASS Executive Director. "The year is 2022, not 1822. It's long overdue for city leaders to transition away from carriage horses and end this obsolete abuse once and for all, as most other large cities have already done. Let's pass this bill and get it done."
The coalition supporting this effort also sent a letter in support of the effort to New York City Mayor Eric Adams and the City Council signed by more than 50 animal and equine groups, organizations, and businesses across America. The letter can be read here. Photos are available upon request.