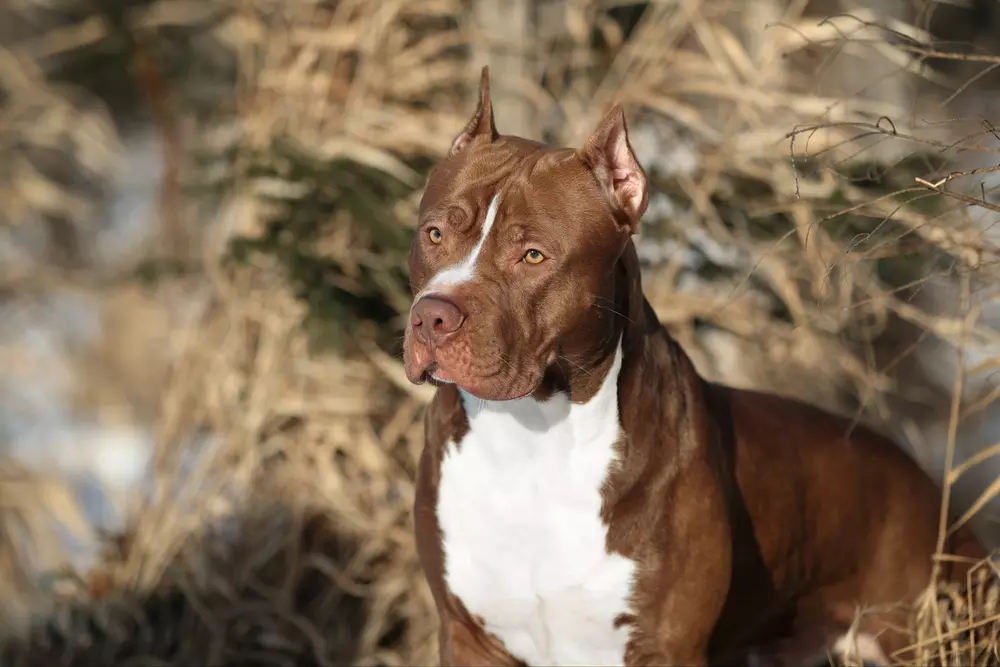 With a Moral Consensus Against Animal Fighting, Why Is It Still So Prevalent?
Animal fighting blends cruelty, criminality, and contagious disease. It must end.
Just days ago, federal authorities arrested 21 individuals in raids targeting a network of dogfighters and narcotics traffickers, with evidence seized at 25 locations just in Indianapolis. The investigation stretched from there to West Virginia to Mexico to Mississippi, where one perpetrator had "several photos of injured dogs, videos of dog fights, fliers for fighting shows and a PDF document titled 'Appendix 32 Cajun Rules for Dogfighting'" on his cell phone.
According to published reports in underground publications, the average fight lasts about 45 minutes, but there are documented cases of fights lasting more than two hours. Dogs suffer grievous wounds, including severe bruising, deep puncture wounds, and broken bones, and often perish in the battles.
Dogfighting is a horror, and the people who engage in it tear at the fabric of a civil society. Indeed, all animal fighting, whether involving dogs or birds, ends with animal victims. That's the point of staged combat. Dogs tear flesh. Roosters stab with blades and curved ice picks strapped to their legs.
While the federal government deserves rich praise for dismantling this dogfighting syndicate, along with conducting cockfighting busts in Alabama, California, Georgia, and Kentucky within the last two years, enforcement of these crimes of violence is not meeting the scale of the problem. Our nation alone may have 20 million fighting birds raised and trained for battle, with many destined for fighting pits in Mexico, the Philippines, and two dozen other nations. These illegal operators are "hiding in plain sight."
Tom Pool, D.V.M., who retired last year as Territorial Veterinarian for Guam and now is senior veterinarian for Animal Wellness Action, called out the leaders of the Guam Department of Agriculture for disregarding our federal anti-animal-fighting law. He pointed out that over the last five years, authorities there admitted more than 12,000 adult illegal shipments of fighting birds from several states.
There "is simply no other rationale for the shipment of very expensive adult roosters to our island but for cockfighting," wrote Dr. Pool, who was an Army colonel who ran the global Veterinary Command for the military. "We know that the people on both ends of these transactions have been involved in the criminal practice of cockfighting."
The United States passed a new federal law in December 2018 banning animal fighting on Guam and also in the other territories, but it's almost as if the law enforcement community didn't get the memo. Even when we presented law enforcement with video evidence of a law enforcement officer with the Guam Department of Agriculture participating at an illegal cockfighting pit, the feds sat on the sidelines. They've made not a single arrest on either Guam or in Puerto Rico, where dozens of pits openly and illegally operate.
Cockfighting Mayhem Across the United States
In Hawaii, in April, a cockfighting enthusiast went on a shooting rampage as a night of fights wound down. One victim, Cathy Rabellizsa-Manners, 59, died after being shot in the face. Gary Rabellizsa, 34, died from multiple gunshot wounds. The shooter wounded three others. It was Hawaii's biggest mass shooting in decades.
It was a well-known fighting venue not far from Hawaii's capital city, but police elected not to disperse the cockfighting rabble. "The Honolulu Police Department hasn't conducted a raid or made any arrests for cockfighting in well over a year," one Honolulu Police Department official told the news outlet Civil Beat.
About a year ago, the U.S. Department of Justice, with support from other federal authorities and the Kentucky State Police, did indict 17 individuals for a range of animal fighting and bribery charges, including pit operators in Clay and Nicholas. In a separate case, the federal government charged a cockfighter with bribery by asking the Mason County Sheriff to provide protection for his fighting venue in return for two payouts of $5,000.
Still, Kentucky remains one of the nation's core hotspots for fighting. In February, Showing Animals Respect and Kindness (SHARK) and Animal Wellness Action released a list of 16 cockfighting arenas illegally operating in Kentucky — with names such as Shaker Hill Pit Club in Butler County, New Pine Mountain Game Club in Harlan County, Charlies Game Club in Martin County, and Honest Abe's Game Club in McCreary County. Despite being given a roadmap to take down the state's key organized cockfighting criminals, the Kentucky State Police were largely passive, choosing not even to provide a warning to the perpetrators to shut down known arenas with their stadium-style seating. SHARK documented children brought to the cockfighters — itself a federal felony.
In Oklahoma, three busts of cockfighting operations have been made by local law enforcement since June – in Carter, Marshall, and Oklahoma counties. That showed a bit of a pulse among law enforcement in a state known for ignoring the cockfighting problem. Prior to that mini-burst of activity, however, the District Attorneys Council of Oklahoma released a report showing that there have been only 29 state-based enforcement actions related to cockfighting crimes in the two decades since voters made cockfighting a felony – just 1.7 actions a year.
And law enforcement had a target-rich stage on which it could act. Animal Wellness Action named Oklahoma "the cockfighting capital of the United States" after identifying hundreds of major cockfighting complexes in the state.
This year, federal authorities have on multiple occasions interdicted illegal shipments of fighting animals and fighting implements at the Mexico-U.S. border. But these enforcement actions, while laudable, are just scratching the surface of the cross-border trade, with Mexico being a massive market for U.S. fighting birds. According to our sources, there may be 1 million fighting birds raised in the United States shipped to Mexico, while hundreds of thousands are coming over the border into the U.S., with cartels driving much of the trafficking.
Cockfighting is much more than just a miserable experience for the animal combatants. In Mexico last year, in a case of gang violence, 20 people were massacred at a cockfighting derby, with one Chicago-based mother and her sister badly wounded at the event.
A dismissive approach to these crimes on both sides of the border is allowing this form of organized crime to fester and spread. And the truth is, busting the whole crowd assembled at a cockfight is perhaps the best thing law enforcement can do to make communities safer. A law-enforcement net cast over the cockfighting venues would sweep up hardened criminals committing a wide range of offenses: Animal cruelty. Illegal gambling. Drug trafficking. Tax evasion. Illegal weapons possession. Human trafficking. Child abuse. Gang and cartel activity. And more.
FIGHT Act Would Address Not Only Cruelty But Contagion
Interdicting rampant dogfighting and cockfighting must be made an urgent priority. That's why we're working with federal lawmakers to introduce the Fighting Inhumane Gambling and High-Risk Trafficking (FIGHT) Act. It was introduced in the House as H.R. 2742 by Representatives Don Bacon, R-Neb., and Andrea Salinas, D-Oregon. The Senate version, S. 1529, was introduced by Senators Cory Booker, D-N.J., and John Kennedy, R-La.
The FIGHT Act would halt the transport of mature roosters through the U.S. mail; ban simulcasting and gambling on animal fights in the United States, no matter where the fights and the broadcast signals originate; enhance forfeiture provisions to include real property used in the commission of an animal fighting crime; and create a citizen suit provision to allow private right of action against illegal animal fighters and ease the resource burden on federal agencies.
Further, by making gambling on animal fighting a crime, the FIGHT Act would address the extraordinary shift toward online wagering on animal fights in an era when legitimate sports are seeing billions spent on smartphones.
Finally, the FIGHT Act is important because cockfighting has the added feature of helping spread a viral contagion, as Jim Keen, D.V.M., Ph.D., director of veterinary science at Animal Wellness Action and the Center for a Humane Economy, notes in his extensive report on cockfighting and avian diseases.
Gamefowl are high-risk disease vectors and reservoirs because they are reared outdoors under poor biosecurity and widely sold, traded, deliberately commingled with other birds at fighting derbies under stressful conditions. Cockfighters engage in particularly risky handling practices, stirring them to fight after they are injured in the pits and even exchanging bodily fluids with the birds.
Virulent Newcastle Disease has entered the United States through illegal smuggling of infected cockfighting roosters from Mexico at least 10 times, causing particularly expensive epidemics in southern California in the early 1970s (at an inflation-adjusted taxpayer cost of $337 million), in 2002-03 (at an inflation-adjusted taxpayer cost of $246 million), and a massive outbreak in 2018-20 (at a very conservative cost-estimate of $72 million), collectively resulting in the killing of at least 16 million birds that required massive remuneration of owners of commercial poultry flocks and other birds.
As of Aug. 18, 2023, the ongoing U.S. December 2021-present bird flu epidemic has killed 58.79 million poultry in 325 commercial flocks and 514 backyard flocks, and countless wildfowl in all states except Hawaii. This will be the most expensive animal-disease outbreak in U.S. history, costing billions of dollars in a so-far unsuccessful attempt to extirpate the virus and inflating consumer prices for eggs and poultry.
When H5N1 bird flu first emerged in southeast Asia in the early 2000s — with a 53 percent mortality rate for infected people — cockfighters played a pivotal role in viral spread and spillover. It can do the same here in the United States, threatening to impose billions in costs and jeopardizing bird health and human well-being.
The United Egg Producers, the Ohio Poultry Association, the Indiana State Poultry Association and other agricultural producers have swung behind the FIGHT Act, along with more than 280 other endorsing agencies and organizations.
Most people consider animal fighting a morally settled issue. But it's far from settled on the ground. Only a determined, strategic effort to nab the animal-fighting kingpins, shut down their pits, seize the live contraband, and penalize the whole cast of characters involved would put an end to this mayhem. The FIGHT Act offers the prospect of cutting off the pathways for transporting fighting animals, shutting down the gambling that fuels it all, and empowering average citizens to join in the enforcement efforts and run the bad guys out of town.
You can help by contacting your U.S. lawmakers today and joining our "Animal Fighting Is the Pits" campaign.
Wayne Pacelle is president of Animal Wellness Action and the Center for a Humane Economy.