Animal Wellness Action calls for government buy-out of small and declining very inhumane and virally dangerous industry
Washington D.C. — The mink industry is experiencing dramatic and unprecedented decline, according to this year's recently released mink report by the U.S. Department of Agriculture and to research and investigations conducted by scientists with the Center for a Humane Economy. The most startling data point is the number of female mink (the breeding animals that forecast next year's captive mink population) dropped 31 percent from the previous year. Add that U.S. mink farmers produced 15 percent fewer pelts, which is the biggest drop since the USDA began tracking, and pelt value plummeted by 17 percent, suggesting that even the modest volume of pelts coming out of the United States is not attracting strong demand from foreign buyers, as fur auction houses whither throughout the world.
See Animal Wellness Action's Chart related to this report HERE.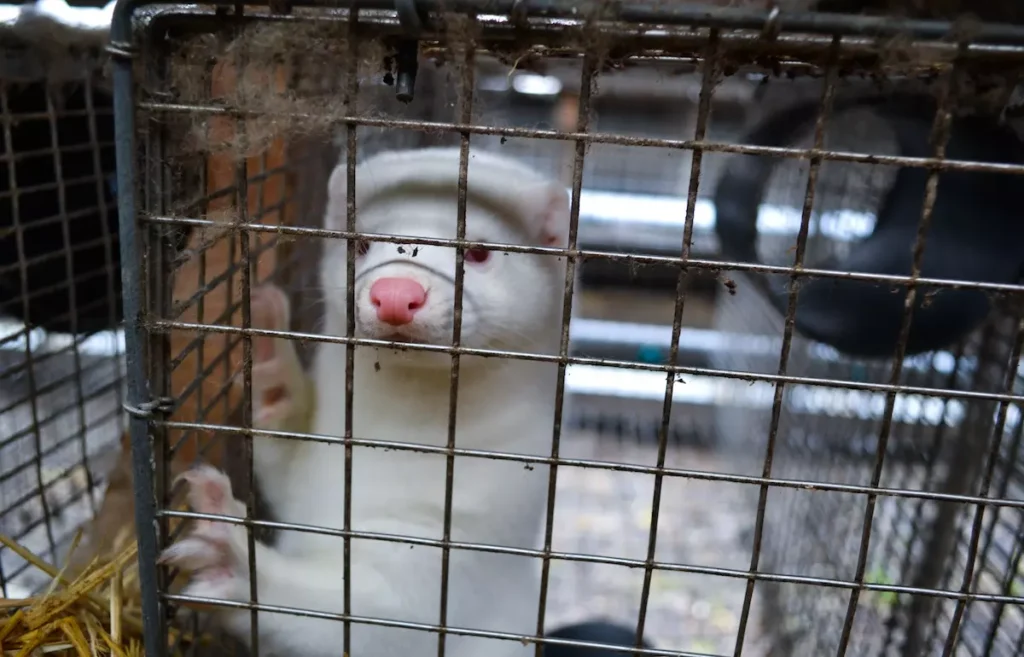 This report is a stark indicator of an inhumane industry's continuing "death spiral," according to Wayne Pacelle, president of Animal Wellness Action and the Center for a Humane Economy, who issued this statement:
"Mink farming is in a death spiral, with no recognizable domestic market for pelts, cratering foreign interest, and a rightly deserved stigma as a grossly inhumane enterprise that poses a severe threat of viral spillover to unsuspecting Americans. America's few remaining mink farmers are producing mink pelts for elites in China, and in the process, they are putting our homeland at risk because of the unique zoonotic disease threats posed by keeping these wild, solitary, semi-aquatic mammals in cruel cage confinement on factory farms."
A summary of the report:
The annual mink report, released in mid-summer, is the result of telephone surveys conducted in early May through late May from all known producers to measure inventories, production, and pelt value. The 2023 survey shows pelt prices and pelt production have dropped to historic lows, in what has been a unmistakable trend over the last decade.
A summary of report includes the following figures:
2022 Females bred to produce kits in 2023 = 245,160 (down 31% vs 2022). This means that 31% fewer pelts are expected to be produced in 2023. That projection suggests that about 920,000 total pelts to be produced in 2023, which will be the first time U.S. pelt production has fallen below a million for as long as records have been kept on the industry.
2022 Pelt value (gross) = $39.2 million (down 17% vs 2021)
2022 Pelt production = 1.33 million (down 15% vs 2021)
2022 Average price per pelt = $29.40 (down $0.60 per pelt vs 2021)
A historical perspective:
At the U.S. mink industry's peak in 1966 when America dominated the global market, 6,000 U.S. mink farmers produced 6.2 million pelts worth about $120 million ($19.35 per pelt average) for American and foreign consumers. In inflation-adjusted dollars, a 1966 U.S. mink pelt was worth $183 and the U.S. mink industry annually generated $1.13 billion in commerce. 
In 2022, a mink pelt was worth an average of $29.40 and the farm-gate value of all U.S. pelts was just $39.2 million – a 97 percent drop in the value of this U.S. enterprise.
In 2023 for the first time since records were kept, mink pelt production is expected to drop below 1 million, with no commercial domestic market for mink pelts and the vast majority of pelts sold from the United States go to luxury customers in China.
Mink linked to viral 'spillover':
Among all mammals, only mink have been documented to contract the COVID-19 virus from humans and then to spill it back to humans in mutated form. That viral spillover has been documented to occur in Denmark, the Netherlands, the United States, and several other nations.
In addition, outbreaks of zoonotic bird flu H5N1 on a large Spanish mink farm in October 2022 and on at least 25 mink and fox fur farms in Finland in since mid-July 2023 have raised legitimate concerns by the World Health Organization that the increase in cases of avian flu among fur-farmed mammals could make it easier for the virus to spread to humans. Thus, Finnish authorities are now culling 120,000 fur farmed mink and foxes to try to contain the bird flu H5N1 zoonotic risk.
A COVID-19-era Decline in Mink Farming:
The mink industry played a unique role in spreading mutated forms of the COVID-19 virus and a number of countries throughout Europe took dramatic action to halt mink production. Most notably, Denmark, at the time the world's leading producer of mink by a long shot, discovered the zoonotic threat, that government ordered the mass culling of the nation's 17 million farmed mink. Other nations banned mink farming and viral threats continue to be detected in other European nations.  Recently, both Finland and Spain saw evidence of avian influenza mutations at fur farms — portending a far more dramatic public health effect than COVID-19 mutations.  The global mortality rate for people with COVID-19 is .5%, while the H5N1 virus, or "bird flu," mortality rate is a staggering 53%.
In the United States, where nearly a third of mink farms had outbreaks, the mink industry appears to have halted any notifications of disease outbreaks since the initial period of reporting in the year after the pandemic was announced. USDA and the U.S. Department of Health and Human Services chose not to pursue any inspections of mink farms or require mandatory reporting as an emergency response despite the documented concerns from the World Health Organization and other public-health players.
"The United States has been flying blind when it comes to reporting of zoonotic disease outbreaks at mink farms," according to Jim Keen, D.V.M., Ph.D., director of veterinary sciences and the author of a definitive 100-page report in 2021 on the link between mink and COVID-19. "It's reckless that the United States has no protocols and no mandatory reporting of disease for mink farms given the known threats that these factory farms poses to public health. The situation is even more acute now with documented transmission of H5N1 from mink farms in Finland and Spain."
In 2022, in response to Dr. Keen's report, the U.S. House of Representatives, with an amendment led by Reps. Rosa DeLauro, D-Conn., and Nancy Mace, R-S.C., approved a mink farming ban, but the Senate chose not to act on the measure. Dr. Keen's report documented that packing wild mink into cramped, crowded cages with other mink creates high levels of stress and the perfect environment for an innovative pathogen to spread like wildfire.
Reps. Mace and DeLauro are expected to reintroduce their legislation in September, with a Senate companion bill to follow.
Read more about the link between mink farming and Covid in a report by Jim Keen, D.V.M., Ph.D. here