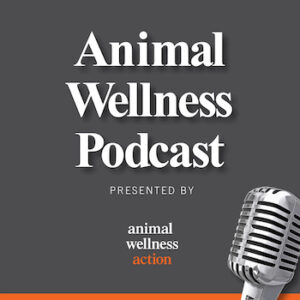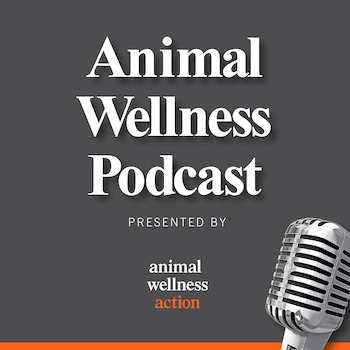 Whether you're taking an afternoon drive, on the way to work, exercising, or perhaps the best way, walking your dog — you'll be able to listen to the Animal Wellness Podcast, with Founder Wayne Pacelle and Executive Director and Chief Lobbyist Marty Irby and with Director of Public Relations Joseph Grove as the host.
Will the Supreme Court side against animals? The attack on Prop 12 | Episode 45
June 22nd, 2022
Approved with more than 62% of the vote in 2018, Prop 12 stipulates that any California farmer raising breeding sows, laying hens, and veal calves must provide minimum space allotments to the animals. The law also bars sale in California of pork, eggs, or veal coming from farms that rely on the most extreme confinement methods. If out-of-state farmers want their animal products to find shelf space in the large California market, they must play by the same rules that in-state farmers must observe. It's a level playing field for all.  
The fight to spare animals through FDA Modernization | Episode 44
June 22nd, 2022
One of our critical campaigns is to ensure the modernization of FDA drug-testing standards, which currently require the suffering and entail the deaths of countless thousands of animals each year.
One of the many organizations also in this fight is PETA. Kathy Guillermo, a senior vice president at PETA, joins us to discuss her organization's work to uncover animal abuse related to medical testing, improvements in science such as organs on a chip, and legislative work to ensure passage of the initiative. 
How a California lawsuit may change things for Kangaroos | Episode 43
June 13th, 2022
Animal Wellness Action has been pressuring Nike, Adidas and other retailers of "k-leather" soccer shoes to discontinue the models to save more than 2 million kangaroos a year, including joeys from being  slaughtered.
Natasha Dolezal, deputy director of campaigns, and Scott Edwards, general counsel, update listeners on our work for kangaroos, including recent protests and the filing of a lawsuit against California retailer Soccer Wearhouse, which we allege has been violating state law by selling kangaroo-sourced soccer shoes.
Monty Roberts, "The Man Who Listens to Horses," talks whipping horses in races, the wild ride of Rich Strike and the Queen | Episode 42
June 8th, 2022
Monty Roberts, one of the most celebrated and admired horse trainers, has sold more than 6 million copies of his blockbusting "The Man Who Listens to Horses" and been repeatedly called in for service by Queen Elizabeth II and traveled at her behest to more than 40 countries.
Roberts takes on the topics of whipping horses during races, the wild ride of Rich Strike in last month's Kentucky Derby and the fate of notorious trainer Bob Baffert.
Monty Roberts, trainer to the Queen, talks horses, whipping and Baffert | Episode 41
June 8th, 2022
Monty Roberts weighs in on the topics of whipping horses during races, the wild ride of Rich Strike in last month's Kentucky Derby, the fate of notorious trainer Bob Baffert, and what he hopes to do next, in the twilight of his career.
Animal Abuse and the Connection to School Shootings | Episode 40
June 3rd, 2022
Statistics show a strong correlation between animal abuse and the perpetration of violence on humans. Both of the teens involved in the Buffalo and Uvalde massacres had previously tortured and killed cats, with the latter even boasting about it on social media.

Wayne Pacelle, founder and president of AWA, calls a history of animal abuse "the reddest of red flags" when it comes to identifying teens and young adults who may one day walk into a crowded building or school and begin killing people. He and special guest Steve Dale, a noted writer and speaker on animal issues, talk about this connection and that now is the time for Congress to pass the Animal Cruelty Enforcement Act.
BLM Mistruths: What's really going on with America's wild horses? | Episode 39
May 26th, 2022
The wild horse and burro herds in the American west are being rounded up by helicopter and removed from our public lands on an historic scale by the Bureau of Land Management.
The BLM has embarked on a broad viral disinformation campaign aimed at persuading Americans that the roundups are necessary. In reality, the horses are being cleared for the benefit of private, for-profit rancher and livestock companies. Director of Campaigns Scott Beckstead and journalist Vickery Eckhoff take a critical, no-holds-barred look at the BLM's mistruths and set the record straight.
The sad fate of Thoroughbred horses, with Hall of Fame jockey Chris McCarron | Episode 38
May 4th, 2022
After the thrill and spectacle of Thoroughbred races, the athletes themselves too often face a cruel, horrific fate. One Kentucky Derby winner, Ferdinand, was actually sold for human slaughter. Before the races, they are likely to experience doping to mask their pain, resulting in on-track breakdowns that are lethal for them and dangerous for jockeys. Hall of Fame jockey Chris McCarron has become a vocal opponent of these practices.
Animal Wellness Action, Marley's Mutts Team Up to Help Bring Dogs Home | Episode 37
April 6th, 2022
Jennifer Skiff, the director of international programs for AWA and the Center for a Humane Economy, and Zach Skow, founder of Marley's Mutts, talk about Mission Possible, the flight that brought 285 animals out of Afghanistan and into Canada. It was a long and difficult mission since the CDC banned the import or return of dogs and cats from 113 countries before the U.S. withdrawal from Afghanistan last summer – forcing many U.S. troops, Foreign Service members and U.S. citizens to evacuate without their pets.
Carole "Tiger King" Baskin updates us on the Big Cat Public Safety Act | Episode 36
Mar 20th, 2022
Carole Baskin rocketed to global stardom after Netflix released "The Tiger King" in 2020. Rather than capitalizing on her frame for personal success, however, she has worked harder than ever for legal protections for lions, tigers and other big cats. She shares a little about her personal adventures and digs deep into the legislation she is fighting so hard to make become law.
Rep. Nancy Mace talks about her work for animals | Episode 35
Jan 26th, 2022
Rep. Mace (R-S.C.), a rising star in Congress elected in 2020, has already proven to be a formidable force for change on Capitol Hill – especially when it comes to animal-welfare. Working with advocacy groups such as AWA and colleagues on both sides of the aisle, she has supported a ban on the factory-farming of mink, challenged the U.S. Postal Service to stop its shipment of birds overseas for cockfighting and lent her name to the FDA Modernization Act.
Rep. Mike Quigley and his fight for lions, tigers – and roosters | Episode 34
Jan 26th, 2022
U.S. Rep. Mike Quigley (D-Ill.) discusses the steps he and other legislators are taking to ensure existing postal regulations are enforced so that thousands of fighting roosters won't be shipped overseas every year to where the bloodsport remains a cruel cultural staple.
Milk: It does a body bad | Episode 33
Dec 13th, 2021
In this shocking episode, Dr. Martin Mills and Olympic cyclist Dottsie Bausch discuss this terrible waste of tax dollars, the systemic racism in the school lunch program that foists milk upon our school children and the cruelty among our bovine friends. 
Team Biden: Are they helping animals? | Episode 32
Oct 16th, 2021
The report on the Biden administration from the perspective of animal welfare isn't good. Not enough is being done to undo or curtail Trump administration policies, and little – if anything – is being initiated to realize the hopes of many advocates.
Minks, COVID and captivity: What's bad for them is bad for us | Episode 31
Jul 24th, 2021
Mink captivity for human consumption is cruel, and it represents real and present danger to people. We feature Dr. Jim Keen, co-author of a new report about the deadly link between COVID-19 and humans and what we need to do about it now.
Emotions, spirituality and the rich, valuable lives of animals | Episode 30
Jun 22nd, 2021
In her new book, Enter the Animal, Teya Brooks Pribac examines academic and popular discourse on animals' experiences of grief and spirituality. She shares her firsthand experiences and research on the complex, little understood topic of animal emotions.
Wild horses and the fight against round-ups and slaughter | Episode 29
Jun 17th, 2021
Guest Carol Walker, a fierce advocate for wild horses and partners with us for legislative and regulatory protections, discusses the more than 70,000 domestic and wild horses being rounded up each year to be shipped to Mexico and Canada for processing and human consumption in around the world.
Bob Baffert, doping and an industry in need of further reform | Episode 28
May 29th, 2021
Our guest is Joe Gorajec, former head of the Indiana Horse Racing Commission and the founder of Horse Racing Integrity Consulting. The panel discusses Bob Baffert, the 2021 Kentucky Derby doping scandal and the need for additional reforms and enforcement in Thoroughbred racing.