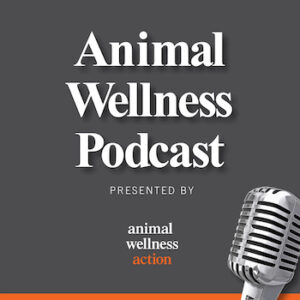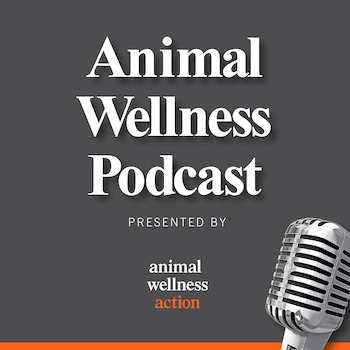 The Animal Wellness podcast is produced by Animal Wellness Action and the Center for a Humane Economy.  It focuses on improving the lives of animals in the United States and abroad through legislation and influencing businesses to create a more humane economy. The show is hosted by veteran journalist and animal-advocate Joseph Grove. Apple Podcasts, Stitcher, Spotify and Podbean offer subscriptions to the free show.
The ongoing horrors of trapping | Episode 9
Mar 2nd, 2020
The horrors of sport" trapping are well-documented: Animals chewing off their own appendages to escape. Slow, excruciating deaths. Orphaned younglings.
Brenna Galdenzi – the founder and president of Protect Our Wildlife Vermont, an all-volunteer, grassroots, nonprofit of more than 2,500 members – talks about her efforts to combat the trapping by fighting for tougher laws, the enforcement of existing ones, and education. Wayne Pacelle outlines the victories that have been made in the fight against fur, from the total ban of "sport" trapping in California to the many retailers who have pledged to go fur-free.
Corona Virus and Horse Racing Integrity Act update | Episode 8
Feb 16th, 2020
The coronavirus now making headlines across the world is an example of a disease originating in a non-human animal and ending up in the human-animal population. The zoonotic virus likely crossed the interspecies boundary at a "wet market" in Wuhan, where live exotic animals are sold as delicacies to affluent citizens. The outbreak, says Wayne Pacelle, is yet more evidence that animal welfare is very much related to human welfare – and that we ignore the fact to our imperilment.
Fixing the lethal abuses in horse racing | Episode 7
Jan 28th, 2020
About 1,000 racehorses a year die in contests they never asked to join. Doping and the overuse of therapeutic drugs are largely to blame, along with harmful overbreeding, and about 12% of the horses slaughtered for human consumption are former racehorses. Arthur Hancock III and Staci Handcock, owners of Stone Farm in Kentucky – which has raised countless Thoroughbreds, including three Kentucky Derby winners – talk about two pending pieces of Federal legislation that would help our equine friends but need the support of Churchill Downs and trainers like Bob Baffert to be passed and signed into law.
Checkoffs and the abuse of animals and farmers | Episode 6
Jan 20th, 2020
The government requires most farmers to contribute to funds that are often used against their better interests and lead to the brutal, mechanized treatment of animals. Pending legislation would require more transparency and purity of purpose for the use of what amounts to an $800 million yearly tax on agriculture. Mike Eby, chairman of the National Dairy Producer's Organization, calls for more humane and sustainable agriculture and the reform of USDA's checkoff programs.
Fighting America's wild-horse round-ups | Episode 5
Jan 12th, 2020
Thousands of wild horses each year are rounded up in a terrifying assault of helicopters and relocated to feeder farms. All so ranchers can have cheap access to public lands – your lands – to graze their cattle and then better profit from the beef they sell.
Suzanne Roy, head of American Wild Horse Campaign, talks about this and the needless capitulations some animal groups are making to appease the government, and how the public is being cheated by the practice.
Support for the Big Cat Public Safety Act with Carole Baskin | Episode 4
Dec 30th, 2019
We talk with and special guest Carole Baskin about the need for the Big Cat Public Safety Act. Baskin operates Big Cat Rescue: An Educational Sanctuary in Tampa, Fla., and is an expert on the challenges confronting these coveted creatures when people try to monetize their cubs and keep them as pets.
Michael Vick, cock fighting in the U.S. territories | Episode 3
Dec 13th, 2019
We talk with special guest Ana Maria Hernandez about the renewed attention on convicted dog-fighter and NFL player Michael Vick as well as the December 20, 2019, deadlines for U.S. territories to be in compliance with federal anti-cock-fighting law.
What's up with those committee chairs? | Episode 2
Dec 4th, 2019
We talk about the key role of committee chairman in expediting or halting the progress of federal animal-welfare legislation. Plus: Lawmakers take aim at shark-finning, and the battle intensifies against Thoroughbred deaths on racetracks.
2019 victories for animals | Episode 1
Nov 23rd, 2019
Wayne Pacelle, founder of Animal Wellness Action, and Marty Irby, the non-profit's executive director and lead lobbyist talk with host Joseph Grove about legislative victories for animals in 2019. They include the PAST Act and the PACT Act.