Violating California Law on Kangaroo Skin Sales
In July, AWA and the Center for a Humane Economy released a report that, in an exacting manner, documents scores of ongoing violations of California's ban on selling body parts of kangaroos (CA Penal Code 653o).
The Center developed the first of its kind list identifying kangaroo skin soccer cleats, listing 72 models of shoes from 9 companies.
Two-thirds of the 117 California soccer specialty retailers selling soccer "cleats" are violating the ban.
Of the 76 dominant online retailers, some 93 percent are illegally allowing shipment into California.
Among the top nine shoe manufacturers, Diadora, Lotto, New Balance, Pantofola d'Oro, Puma, and Umbro were found to be shipping illegally to California addresses (only Muzuno and adidas followed the law). Nike, the biggest name in athletic footwear, apparently took steps to temporarily come into compliance after being notified of violations by the Center but then resumed illegal sales.
All nine manufacturers, including adidas, violate the statute by wholesaling soccer cleats to retailers in California.
It would be as if two-thirds of stores offering home goods — from the big names like Overstock and Walmart to the mom-and-pop stores in your neighborhood — were selling ivory carvings right out in the open, even though California bans that trade.
These athletic companies, including Fortune 500 companies such as Nike and adidas, are breaking the law. Brazenly. Knowingly.
California Law Enforcement Has Failed Kangaroos
For years, Australian trade groups that kill kangaroos worked to upend the law, even succeeding in convincing lawmakers to suspend it for nearly a decade. But the prohibition has been in effect since 2016 — an unambiguous, straight-ahead ban on the sale of any kangaroo parts, including skins.
But the Center's report, done in cooperation with Animal Wellness Action, shows that state enforcement authorities have been idle as the trafficking persisted.
Collectively, there have been tens of thousands of violations in that four-year period.
If any state understands the threats that forest fires pose to people, property, and wildlife, it's California. But not even Californians experienced fires as intense and destructive as those that torched Australia some months ago. Calamitous fires raged across the continent — which is about the size of the United States, but has less than 10 percent as many people as we do — and killed more than three billion wild animals, including kangaroos.
After seeing the continent razed, I thought that these iconic animals cannot withstand the continuing assault by shooters and the other effects of our species, including the conflagrations we've sparked.
We have to limit our footprint.
And one big step for us is to choose the right footwear. By doing so, we can spare the kangaroos.
Shooters and Shoe Sellers Are a Pair
The commercial shooters kill two million wild kangaroos annually to supply skins to Nike, adidas, Mizuno, Pantofola d'Oro, New Balance, Puma, Umbro, Lotto, Under Armour, and Diadora (Diadora promised to stop by the end of this year, but our investigation found the company illegally selling kangaroo-based shoes in the state).
There are no "farmed" kangaroos. Shooters have to go out in the Outback at night, use spotlights, sometimes shooting from trucks. When the shooters kill the females, they doom hundreds of thousands of baby kangaroos (joeys). The dependent young either die of starvation, bludgeoning, or decapitation.
In fact, it's the largest land-based commercial wildlife slaughter in the planet. Nearly 10 times larger than Canada's seal hunts at the zenith of the slaughter on the ice floes.
Shedding the Skins
As a matter of business, it's an easy lift. The kangaroo soccer shoes are a niche product. Most of the companies' shoes are made from plant-based and synthetic weave, mesh and even fake kangaroo skin materials. In fact, no other sports shoe category (like running, tennis or  basketball) but soccer contains kangaroo skin models.
We don't treat sports as a cordoned-off enterprise set apart from the rest of world and its swirl of social concerns," said Bausch, on behalf of herself, soccer gold medalist Heather Mitts, track-and-field gold medalist David Verburg, and two other elite athletes in a letter to Nike CEO John Donahoe. "That means we care about the things we wear, the supply chain that allows them to be fabricated, and the precious world that we all inhabit with animals."
We're not making hats from herons and egrets, we don't decorate our living rooms with ivory trinkets, and we shouldn't wear athletic shoes made from the skins of kangaroos.
Wayne Pacelle is founder of Animal Wellness Action and President of the Center for a Humane Economy.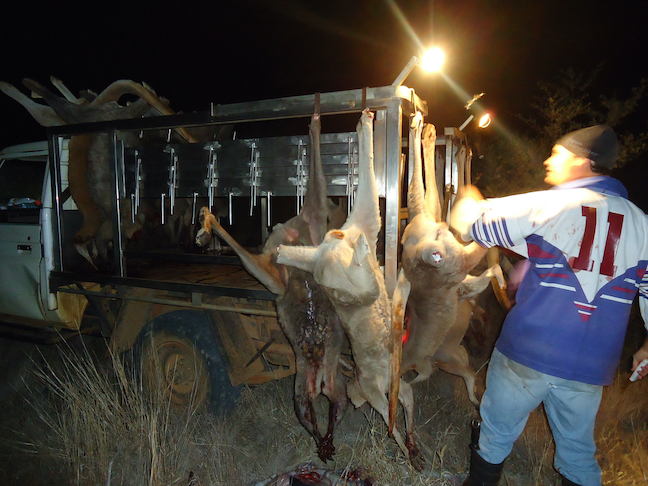 It would be as if two-thirds of stores offering home goods — from the big names like Overstock and Walmart to the mom-and-pop stores in your neighborhood — were selling ivory carvings right out in the open, even though California bans that trade.